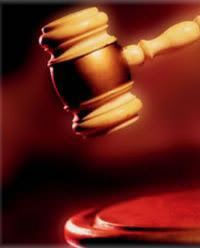 McDonald's on the corner of 25th and Wisconsin, you have been convicted of five counts of not giving a crap.
Count 1: For having an employee leaning against the counter doing nothing while 3 people waited in line at the one open register.
Count 2: For barking "Hold on!" with annoyance to a customer trying to order through the drive-through.*
Count 3: For looking generally displeased that customers are interrupting your day by trying to order food.
Count 4: For giving me a dollar-bill in change for a charge of $4.01, rather than counting out the change.**
Count 5: For allowing the employee leaning against the counter to cut in front of customers in line and announce "I'm ordering now."
Counts 1-4 are misdemeanors which carry a penalty of 10-20 hours of customer service for each count. Count 5 is a felony count of reckless disregard for human decency. It carries a penalty of one hour of me muttering under my breath to be consecutively followed by an angry blog posting.
Bailiff, take them away.
*Note: One charge of spelling "drive-through" as "drive-thru" has been dropped because responsibility for that ultimately rests on the corporation of McDonalds as a whole.
**Note: Normally this offense would be let off with a warning, but the defendants lack of giving a crap in other areas has led to this charge being prosecuted to the fullest extent of the law.